We spoke to Sam Gillespie [@samgfilms], filmmaker and director of Over The Top Drones, about the trials and tribulations of commercial drone filming & photography. With a background in photography, Sam moved into the world of filmmaking and took the leap to aerial work after obtaining his PfCO in 2018. Having worked on everything from construction to motorsport to marathons, Sam had some great tips for anyone looking to get started as a paid pilot.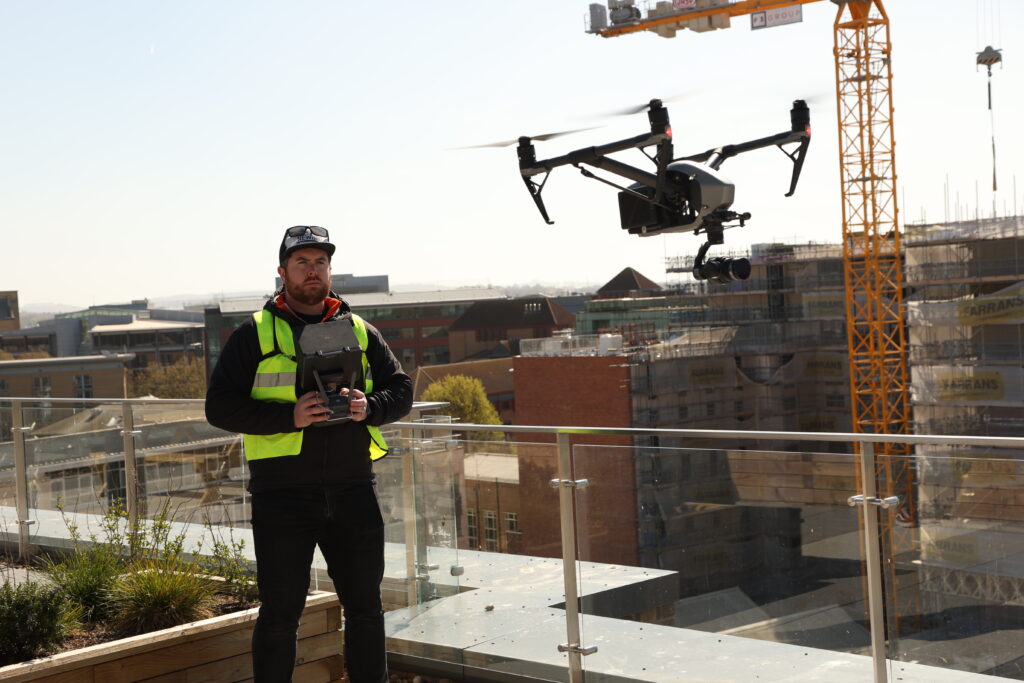 How did you get involved in drone work?
I left a corporate job in 2017 to pursue my passion for photography. That very quickly morphed into video work and then, over three years ago, I decided I wanted to start offering aerial drone filming and photography commercially. I'd been flying recreationally for about a year at that point, and in 2018 I did the PfCO training. Drone work initially started off as a bit of an "add-on" to my video production business at the time, but it's become one of the offerings I'm best known for.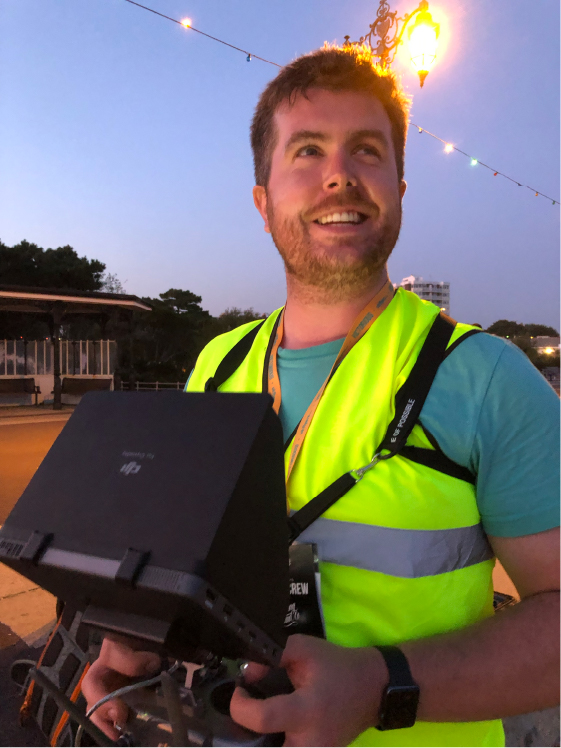 What kind of drone work do you do now?
There are essentially two types of drone jobs I carry out. The first is acting as a drone operator/supplier on large-scale productions where we will either fly the Inspire 2 (with dedicated camera operator) or carry out the filming with a Mavic-series drone plus spotter/observer. Files are offloaded or sent to the client and that's where our involvement ends. The second is the full-package, start-to-finish work with clients where we'll carry out all the pre- and post-production, etc. As for the industries, it's been everything from construction to property companies and automotive… the beauty of aerial drone filming is its versatility across sectors.
And which area do you enjoy the most?
The automotive stuff is always pretty fun. Challenging, but fun chasing cars/bikes at full speed. And it always looks cool in the showreel!
How much time do you spend flying, versus planning and post-production?
Not enough I don't think! Of course, living in the UK, a lot of what we do is weather dependant. We had a job back in February that we had to push back three or four times because of the rain, wind and snow on different days.
When I started out, pre-flight planning would take quite a long time, but once you've done a few commercial jobs, you know what you're looking for. One tip I'd give to people starting out: don't be afraid to pick up the phone. I've done jobs at the end of one of Heathrow's runways. I called up on the Monday and had permission ready to go for the shoot day on Wednesday. These things can often take much longer though, so it's often a case of managing the client's expectations of what is possible at short notice.
I've been able to secure Operational Safety Case, or "OSC", permissions for Over The Top Drones which means we can not only operate at reduced distances (on take-off/landing and in-flight) but also at 600ft (subject to various conditions being met as part of those permissions from the CAA). This opens a lot of doors in terms of where we can operate in congested areas, but the pre-production time on these jobs is of course typically much longer due to the increased risk and all the mitigations that need to be put in place.
What advice would you offer pilots starting out?
I'd say work on getting a killer body of work. A lot of people do the training, then they're wondering why the phone isn't ringing, but you've got to work on building that network. Every time you take a great shot, post in online, show everyone you know. Every time you meet someone, tell them "I'm into drones", people always find it interesting as it's still pretty novel. And maybe the people who see your post or hear your stories don't need a drone operator today, but six months down the line when they do, they'll remember you and you might get a call or message.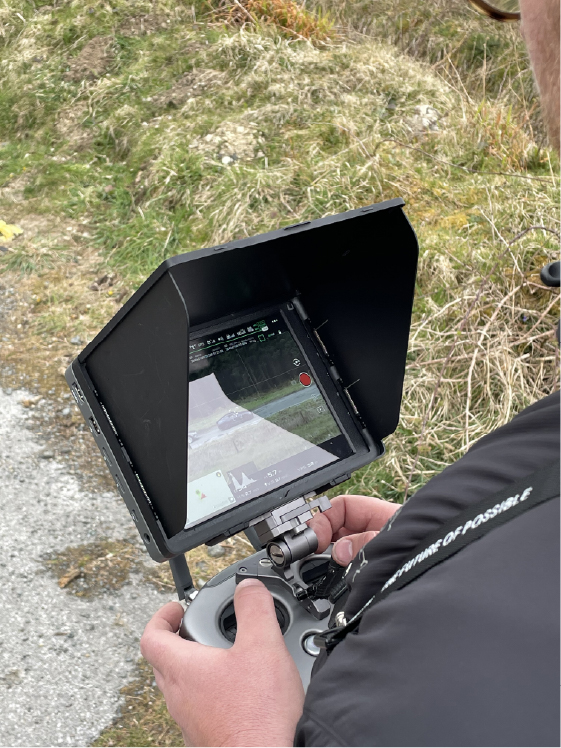 I'd also recommend focusing on shooting the kind of work you want to do. By that I mean, if you're just shooting roof surveys, it's going to be hard to do travel photography, because your clients are going to want to see it in your portfolio. When I wanted to break into the construction industry, I approached a small local company and got some great footage of them with heavy-lift cranes which I was able to show as an example to one of the UK's largest construction companies. I'm sure that's what got me the job.
How do you think the industry has changed?
I think the barriers to entry are lower now. You can pick up a Mini 2, fly in a city with just an A2CofC. Camera quality is so good nowadays also, for less than £1,000 you can be getting stunning, 4K quality video.
Are you using The DronePrep Map?
I am. I use a few different applications for pre-flight planning, one of which is DronePrep. What's great with DronePrep is that if you're really struggling to find somewhere to take off, you can quickly find landowner contact information on the map. I've used that in the past to get in touch with landowners near me, it's a very useful service. Another good feature is just how quickly you can get latitude and longitude positions if you need to run a NOTAM search. And being able to see all the local landmarks that you might want to consider when planning a flight – schools, police stations, that kind of thing.
And looking to the future?
Drones are here to stay and I'm hoping that people's hesitancy towards them is going to diminish with time. I'm sure the number of people working in the industry is going to skyrocket – not trying to make a pun there! – and I hope there will be a better environment for both recreational and commercial operators.
A lot of operators are going to have to update their fleets when the class marks come in to operate in congested areas or at big events. The rule changes have been a lot for us to get our heads round, and I'm probably in the same camp as a lot of pilots who are still operating under legacy permissions from the old PfCO. So that means at the start of 2023 things are going to change again, and we're going to need to go down the GVC route.
As for the work itself, you can see people are starting to use drones for all sorts, like 3D-mapping of buildings, or to help inform decisions on renovations. However, I'm firmly on the creative side of things and much prefer shooting moving objects!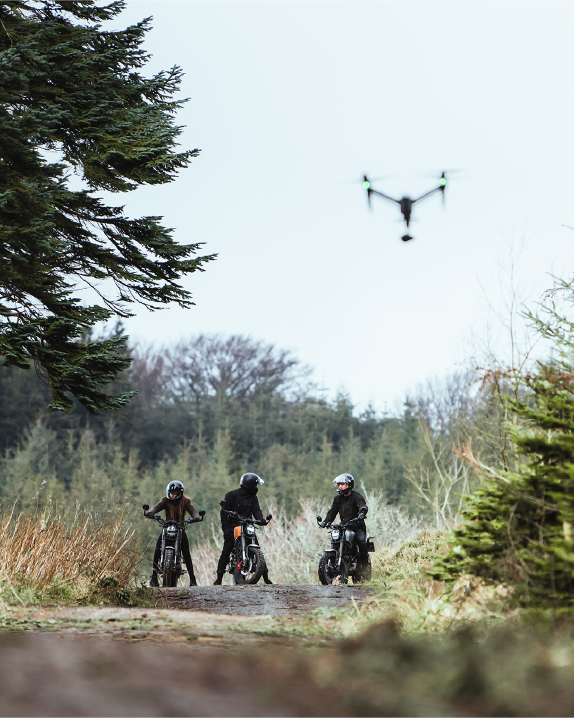 Marketing Manager at DronePrep and recent returnee to the UK after a long stint abroad. Rookie drone pilot, avid writer and lover of all things tech.